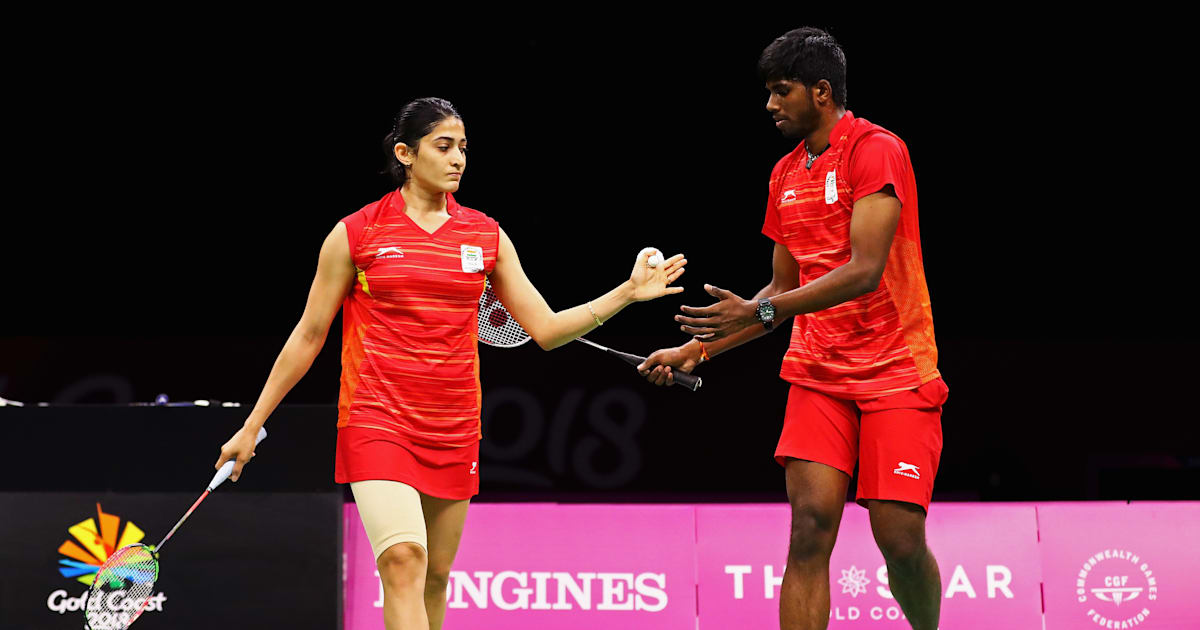 Satwiksairaj Rankireddy and Ashwini Ponnappa upset second seeds Faizal-Widjaja in straight games. Pranaav Chopra and N Sikki Reddy bowed out.
The Indian badminton pair of Satwiksairaj Rankireddy and Ashwini Ponnappa won their opening round mixed doubles encounter at the Swiss Open in Basel, Switzerland on Tuesday.
The Indian badminton pair beat second-seeded Indonesians Hafiz Faizal and Gloria Emanuelle Widjaja 21-18, 21-10.
Satwik-Ashwini had achieved their career-best ranking of 19th in the mixed doubles last month after reaching the semi-finals of the Super 1000 Toyota Thailand Open.
The Indian pair began fast in the opening game, running to an early 5-2 lead before Faizal-Widjaja won four points in a row.
The teams traded points thereafter, with neither allowing the other to get away, but Satwik-Ashwini edged ahead to lead 11-9 at the mid-game break.
It continued to be a keenly contested affair after the break, but Satwik-Ashwini always remained ahead and though they squandered a game point, soon wrapped up the first game.
The second game followed a similar script. Satwik-Ashwini raced ahead to a big lead before Faizal-Widjaja hit back. However, the Indian duo dealt with the situation better this time, not allowing their opponents to build momentum, and carried an 11-6 lead to the break.
Satwik-Ashwini dominated post the break, finishing off points early to deflate Faizal-Widjaja, and comfortably won the match to move into the second round.
Meanwhile, the other Indian mixed doubles pair, Pranaav Jerry Chopra and N Sikki Reddy, exited the Swiss Open in the first round after losing 21-18, 21-15 to Marcus Ellis and Lauren Smith of England.
This was Pranaav Chopra's first competitive tournament since he tested COVID-positive in December.
Olympic medallist Ellis and partner Smith dominated the initial stages to rack up points with their better on-court communication.
However, Chopra-Reddy hit back while trailing 13-18, winning a series of points with their aggression, which put Ellis-Smith on the backfoot. The English couple though did enough to stay ahead and won the opening game when Reddy sent a return wide.
In the second game, Ellis-Smith raced ahead as Marcus Ellis frequently attacked from the net to test the Indian pair's defence. It forced them into committing errors, but Chopra-Reddy came back into the game with long returns, pushing their opponents towards the backcourt.
However, Ellis-Smith soon thwarted that plan, as they alternated positions better and always ensured a frontcourt attack to win the match in straight games.
For play-by-play highlights of the Indian contingent, visit our live blog of Day 1 of the Swiss Open.