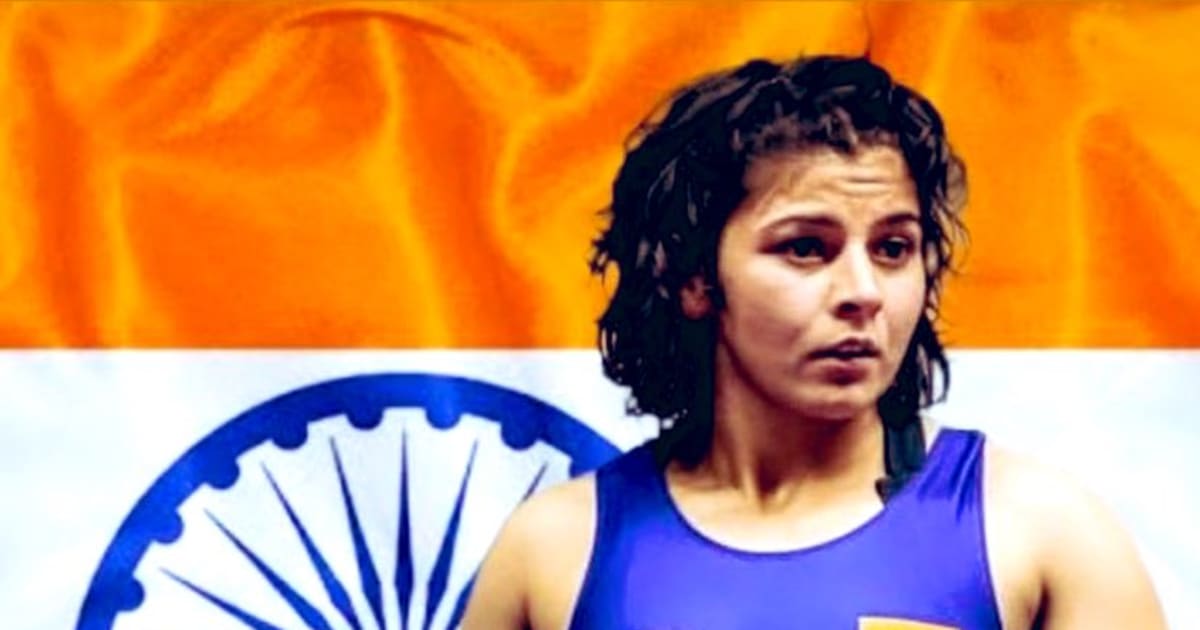 The headlines were rightly grabbed by star Indian wrestler Vinesh Phogat who won gold at the Matteo Pelicone Ranking Series in Rome, reclaiming her No.1 ranking, on Sunday.
However, a few others have also put in creditable performances in Rome, especially Sarita Mor who won silver in the women's 57kg event on Saturday.
The 25-year-old Sarita, the reigning Asian champion, defeated the likes of Kazakhstan's Altynay Satylgan in the quarter-finals and Emma Tissina (also Kazakhstan) in the semi-finals.
She lost 4-2 to Giullia Penalber of Bulgaria in the final to settle for the silver medal.
So what do we know about her career so far?
1. Growing up in the hotspot of wrestling
Sarita Mor hails from Sonepat district in Haryana which is known for being the hotbed of Indian wrestling. Many big names have come from the state including stars like Geeta Phogat, Babita Kumari, Vinesh Phogat, Ritu Phogat, Rio 2016 bronze medal winner Sakshi Malik, Bajrang Punia and more.
Growing up, kabaddi was her favourite sport but interestingly, she turned to wrestling after feeling that her kabaddi coach was too strict. Her father also encouraged her to pursue wrestling and here she is.
Her focus was such that she was not enamoured by movies and cricket. She does not watch any dramas and does not even have a TV in her room, even now. She also likes basketball.
She is also a fan of star Indian wrestler Sushil Kumar who has won two Olympic medals for the country, at Beijing 2008 and London 2012.
2. A career-threatening injury and the bounce back
In the 2011 National Championships, disaster struck for Sarita. She suffered a serious shoulder injury that many feared would end the promising career of the young wrestler.
She ended up undergoing surgery and had to stay away from active wrestling for almost two years. At a time when one should've been honing their skills, Sarita was left to sit idle and wait.
But two years later, in 2013, through sheer hard work and perseverance, Sarita made a comeback, clinching a spot in the India team.
3. Married to a wrestler who gave up his career for her
Interestingly, Sarita is married to a fellow wrestler, Rahul Mann, who has once considered a promising name in the sport. Mann is in fact a two-time silver medallist at the Commonwealth Games and has famously defeated London 2012 bronze medallist Yogeshwar Dutt in a national trial.
"Sarita is married to international wrestler Rahul (Mann) and when we spoke to his parents about the marriage, our first and only condition was that she will continue wrestling," said her father Ram Chander Mor to the Hindustan Times.
It was an arranged marriage with the two families keen on getting the two wrestlers hitched given their similar background and live for wrestling.
In fact, Mann is helping train his wife. He is her sparring partner and that helped her as most wrestlers didn't have anyone to train alongside during the pandemic.
4. The switch to 57 kg from 62 kg
Interestingly, Mor has decided to switch to the 57 kg category as opposed to the 62 kg where she used to compete earlier. While it was speculated that the reason for the change was the fact that Sakshi Malik also competes in the same weight category, the decision to opt for a change in the weight category was based on extensive research.
As per Mann, international wrestlers in the 62 kg category are taller and that gives them a massive advantage over Sarita. "Many wrestlers across the world do that. You need to participate in good competitions. Switching a kilogram or two is no big deal," he told The Sportstar
It is not uncommon for wrestlers to switch weight categories as they usually access being in which weight class would help them succeed.
5. International achievements
While Sarita has found success in various international youth meets right from 2011, her first major senior medal at the international level came in 2017 at the Asian Wrestling Championship, held in New Delhi. She won a silver in the women's 58kg event, losing to Kyrgyzstan's Aisuluu Tynybekova in the final.
Her journey to the final was straightforward though, thrashing Uzbekistan's Asem Seydametova10-0 in the quarters before defeating Thi Huong Dao of Vietnam 12-0 to make the gold medal bout.
But she made amends in 2019, which incidentally was her first Asian event since the 2017 edition. Participating in the 59kg category this time, she went all the way and won the gold medal.
After cruising through to the final, she edged past Mongolia's Battsetseg Atlantsetseg in the final.
She has churned out impressive performances in the Pro Wrestling League (PWL) as well and had recently attained the World No.2 ranking in her category.