10/11/2020 – Grandmaster Fabiano Caruana is the top-ranked chess player in the United States and is second in the world. He was the challenger for the World Chess Championship in 2018. To show appreciation for Caruana, National Master Mike Walder presents a recipe for a dish Caruana might like and annotates one of Caruana's wins. WIM Alexey Root tells why Caruana is a Grandmaster Chef honoree. | Pictured: Caruana at the 2018 London Chess Classic | Photo: Lennart Ootes
---

Find the right combination! ChessBase 15 program + new Mega Database 2020 with 8 million games and more than 80,000 master analyses. Plus ChessBase Magazine (DVD + magazine) and CB Premium membership for 1 year!
From prodigy to second in the world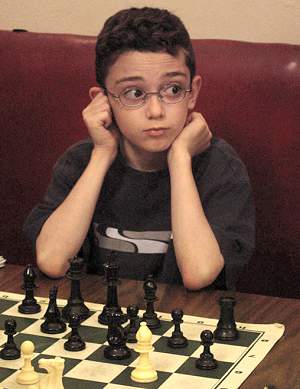 At the age of 14 years, 11 months, and 2 days, Caruana became the youngest grandmaster in the histories of the United States and Italy, the two countries where he has citizenship. Born in Miami, Florida, Caruana learned chess in Brooklyn, New York. Later, as Leonard Barden wrote, "He moved to Europe in search of the best tournaments and coaching, living in Madrid, Budapest and Lugano and representing Italy." Caruana played for Italy from 2005-2015.
Since the founding of the Saint Louis Chess Club in 2007, and thanks to its patron Rex Sinquefield, the United States has become a premier destination for world-class chess. The Saint Louis Chess Club was the setting for Caruana's best performance ever, 8.5 out of 10 in the 2014 Sinquefield Cup. As ChessBase shared, posting a Slate magazine article written by Seth Stevenson, his 2014 "victory at the Sinquefield Cup earned Caruana the highest tournament performance rating of all time, crushing even Karpov's legendary result at Linares. As a result, he vaulted past Aronian in the real-time rankings to become No. 2 in the world."
[Pictured: Caruana beat Aleksander Wojtkiewicz back in 2003 at the Marshall Chess Club]
The year after that landmark performance, in 2015, Caruana switched chess federations from Italy to the United States. In 2018, he tied the classical portion of the World Chess Championship match 6-6 (12 draws) before losing to World Chess Champion Magnus Carlsen in the rapid tiebreaks. As of September 2020, Caruana is once again traveling for over-the-board chess, playing first board for the winning OSG Baden-Baden team in the Bundesliga Championship and, from October 5-16, competing in Altibox Norway Chess.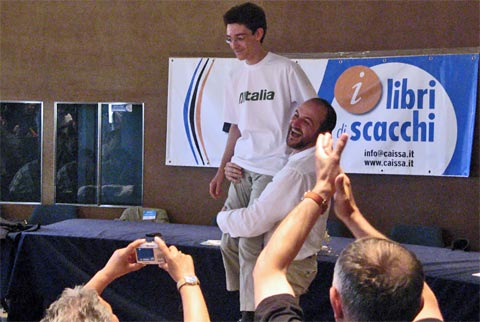 At 14 Fabiano was celebrated as a GM, Italian Champion and the country's top ranked player
What does Caruana eat?
The ESPN article "The grandmaster diet: How to lose weight while barely moving" stated that Caruana "makes sure to eat a balanced breakfast each morning: two eggs, cured fish, oatmeal and fruit." When interviewed by ChessBase in April of 2019, Caruana declined to pick one favorite food but said, at 19 minutes 23 seconds in, that he likes "Japanese cuisine a lot, I also like French cuisine a lot, and of course Italian."
Italian cuisine includes risotto. Risotto uses Arborio rice, grown in Italy's Po Valley, California, and Arkansas. Arborio rice is also grown in Missouri, where the Saint Louis Chess Club is located and where Caruana has lived since 2014. According to National Geographic, Italian cuisine is as American as apple pie. Like apple pie, a welcome addition to any meal, Fabiano Caruana enriches American chess.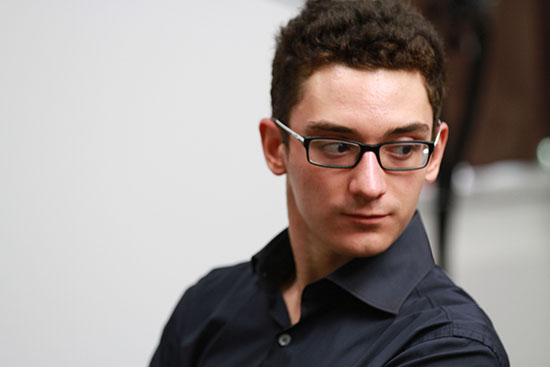 The day he got his seventh straight win at the 2014 edition of the Sinquefield Cup
The recipe
Within Walder's Scallop Risotto with Mushrooms and Peas recipe, which serves three people, there is considerable flexibility. Use as much olive oil as you need. Fresh scallops are a better choice than frozen, but frozen scallops (any type) are acceptable. Walder chose six large sea scallops (10-20 scallops per pound). If you use smaller scallops, you may want to use more of them.
Regarding mushrooms, Walder advised, "a variety of fresh mushrooms cut into bite-sized chunks but buy whatever is fresh at your market." Walder used a little over one quart of vegetable stock; you may use slightly more or less. Pecorino cheese or Parmesan cheese, freshly grated, are the two recommended cheese choices.
---
Scallop Risotto with Mushrooms and Peas by Mike Walder
Ingredients
Olive oil
Scallops, 6 large
Yellow onion, 1 minced
Shallot, 1 minced
Garlic, 2 cloves minced
Mushrooms, 4 cups
Italian parsley leaves, 1 bunch rough chop
Lemon, 1, zest and juice
Arborio rice, 2 cups
Vegetable stock, 1.5 quarts
Optional: Saffron, a pinch
Peas, frozen, 1 cup
Pecorino cheese, 1 cup grated (or Parmesan cheese)
Butter, 2 Tablespoons room temperature
Salt and pepper to taste
Directions
Heat the vegetable stock in a saucepan over medium heat, but do not bring to a boil.
Coat a thick bottom skillet with a thin layer of olive oil, heat to medium high,
Towel dry scallops, then salt and pepper both sides of each scallop. Sear scallops for 2 minutes each side, remove them from the skillet, putting them on a covered plate or bowl so they will remain warm.
Add a little more olive oil to the skillet and add the minced onion, shallot, and garlic. Stir continuously for 5 minutes.
Add a little more olive oil, the mushrooms, ¾ of the chopped Italian parsley leaves, and lemon zest to the skillet. Stir continuously for 5 minutes, adding more oil if the skillet becomes dry.
Add a little more olive oil if needed to keep skillet coated. Stop stirring and add the rice, making sure that most of the rice touches the skillet, toasting it for 2 minutes.
Add the lemon juice, and optionally saffron, reduce the heat to medium and resume continuous stirring with a soft spatula or a wooden spoon while adding 3 ladles of vegetable stock.
Continuously monitor the skillet, adding more vegetable stock to keep the rice moist but not drowned, repeating as needed for the next 12 minutes.
Add the frozen peas, continue stirring, adding vegetable stock as needed for 6 minutes.
Sprinkle the cheese across the entire skillet and add the butter, distributing it evenly. Continue to stir for 2 more minutes, adding more vegetable stock if needed.
Plate the risotto in bowls, placing the seared scallops on top, and garnish with the remaining Italian parsley.
Takes 1 hour to make. Serves 3.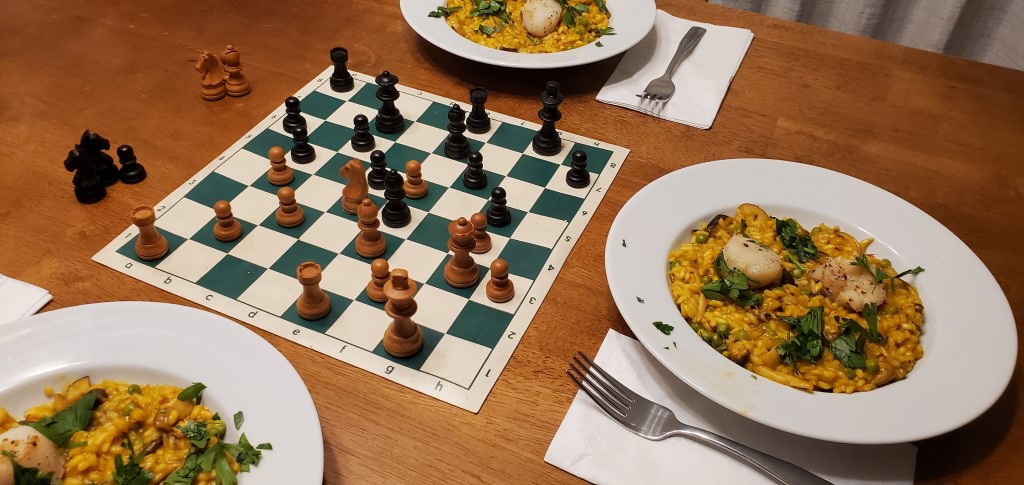 Scallop risotto with mushrooms and peas next to Caruana v Erdos after 23…Qc7 | Photo: Elliott Winslow
---
The game
National Master Mike Walder annotates a lesser-known Caruana win, against Grandmaster Viktor Erdos. The Caruana-Erdos game was from May of 2014, just four months before Caruana's record-setting victory in the 2014 Sinquefield Cup.
---

Navigating the Ruy Lopez Vol.1-3
The Ruy Lopez is one of the oldest openings which continues to enjoy high popularity from club level to the absolute world top. In this video series, American super GM Fabiano Caruana, talking to IM Oliver Reeh, presents a complete repertoire for White.
---
Links