10/6/2020 – The Pacific Northwest Chess Center (PNWCC) is a very active, Seattle based club that organised a couple of strong online events during the COVID-19 pandemic. One of these events was the so-called Jackpot Blitz, a series of blitz tournaments. The excellent conditions and the attractive prizes attracted some of the world's best players, but a few weeks ago the Jackpot series ended with the 20th and last Jackpot Blitz. It was won by GM Vladimir Fedoseev, who sends a report and annotates games.
---

Find the right combination! ChessBase 15 program + new Mega Database 2020 with 8 million games and more than 80,000 master analyses. Plus ChessBase Magazine (DVD + magazine) and CB Premium membership for 1 year!
Half-point shy from PNWCC Jackpot
Due to the COVID-19 global lockdown, many chess organizers swiftly changed their focus to online events. The Pacific Northwest Chess Center (PNWCC), a Seattle based club founded by a group of chess enthusiasts who work for ATT&T, Microsoft and Amazon, soon became popular among chess players from around the world for their fun yet competitive tournaments, with quite generous conditions and prizes. From my own experience, what makes PNWCC stand out is their strict fair-play measures, which I consider as a good example to this day for online chess. With world class event organizing skills, responsive and fast communications, and attention to details, PNWCC really makes players feel comfortable to play online events with little to no worries. I myself played a lot of PNWCC tournaments, including the classical 3-day/9-round G/60 tournament World Online Open (WOO), Super GM invitational Summer of Seattle (SOS), and the fun Team Bullet World Cup.
Readers can find and follow PNWCC's event schedule on North America Chess Hub, from where you can see they have a series of blitz tournaments on almost every Saturday in the past 6 months dubbed "PNWCC Jackpot Blitz". These blitz tournaments have a unique points based prize system to encourage players to play fighting chess in every single game, and in the event that a player wins all 11 games, he hits the "Jackpot" – an impressive $1,000 prize! As a result, you rarely see quick draws in Jackpots as half point less can make you either win much less or no prize at all, and half point more sometimes double the reward!
In the short history of Jackpot blitz, many strong GM's, including Grischuk, Giri, Mamedyarov, Dominguez, Karjakin, Gelfand, Vitiugov, Xiong and Le, just to name a few, had tried but nobody had achieved a perfect 11/11 score yet. Indian youngster GM Arjun, Erigaisi and I each managed to score 10/11 once, and won $500 prizes.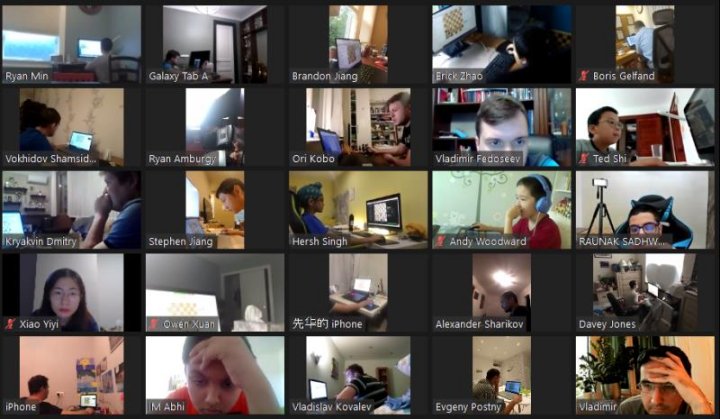 The players in action
Three weeks ago, PNWCC announced the 20th edition of Jackpot. This would be the final one of year 2020, and it took place at 9:30 AM PST on Sept 19, with an interesting name – PNWCC Jackpot 20 – Finale – ROTK! This made me wonder what was special besides being the last one. On checking the roster, and seeing former world champion GM Vladimir Kramnik's name, I immediately knew this one would be truly unique! Having been impressed by PNWCC's respect and true passion for chess, I was not surprised GM Kramnik would agree to take a 3-hour break from his retirement and play in the final Jackpot!
A few facts can help showcase how strong and popular this tournament was –
94 registered (some ended not participating in the event)
43 GMs and 2 WGM, including 16 players rated over FIDE 2600
15 IMs and 1 WIM
24 U20 Juniors players, including a few promising ones from China and India. The tournament started at 9:30 AM Seattle time, but for Asian players, it was 0:30AM to 03:00AM! To these youngsters, their "Jackpots" were to get a game vs the former World Champion!
I got paired against a strong IM in round 1 while there were also GM's duking it out against other GMs. This shows how competitive the pairings were in a huge tournament with 11 rounds!
For the author of this article, this special Jackpot was significant thanks to a record-breaking performance of 10.5/11, the highest Jackpot score ever which can only be broken by someone hitting a Jackpot later! Not every time I'm able to separate myself by 2.5 points from the nearest competitors in such a tight field with many strong grandmasters. How is it different from Alekhine in Bled?
Click here for the final cross table
The road to victory was not as smooth as shown by the score though. I drew my compatriot GM Maksim Chigaev in round 4, which by Jackpot's standard was quite early. Knowing hitting the Jackpot was mission impossible again made me relax and I decided just to enjoy chess and won my next 4 games.
The moment I had been looking forward to finally came in round 9 – I had the honor to be paired against the former World Champion – GM Vladimir Kramnik. Probably not used to online chess yet, Kramnik gave three draws in a row so I was ahead of him by one point before the game, which might partly contributed to him wanting to play in maximum aggressive way. I felt ready for this kind of fight and let's see what happened in the game!
Another player that deserves special mentioning is GM Boris Gelfand. The legendary 2012 World Champion challenger had been a regular to Jackpots lately, and we played many games. This tournament proved no exception. Let's see what happened in our round 10 encounter.
In this game I was able to win, though along the way I was totally outplayed. After the tournament, Xuhao He, one of the founders of PNWCC who claims that he doesn't know how to play the game, but sometimes likes to read chess books, congratulated me on winning the tournament, with a teasing quote from GM Gelfand's popular book "Dynamic Decision Making in Chess" 😊 
Boris Gelfand – Dynamic Decision Making in Chess, p. 227
Although Xuhao doesn't know how to play chess, his son, Anthony He, a young and creative player with whom I played quite a few training games, also had a good tournament with many excellent games. In this article, I will examine one of his games that I liked the most.  
Even though PNWCC has concluded this year's Jackpot blitz tournaments, I would like to wish for future Jackpot tournaments to become even more popular! I would also like the anti-cheating measures taken in this tournament to become more common in online tournaments, and that the  prestigious milestone Jackpot 50, and soon after, Jackpot 100 will take place quickly!
Links