Every third Thursday of the month, chess and jazz enthusiasts from all over Berlin meet at the Transit Bar/Restaurant in Kreuzberg to celebrate their love of good live music and chess.
Chess & Jazz Berlin was founded in April 2019 by Clemens Lotz. Since then it has become one of the hottest events in Kreuzberg, supported by a loyal community of jazz and board game fans. The line-up of the bands changes from event to event and presents the best of Berlin's young jazz generation. Admission is free, donations are welcome. 
19:00 : Schach (Chess)
21:00 : Schach & Jazz (Chess & Jazz)
Transit-Restaurant and Bar
Schlesische Str. 35a
10997 Berlin
Street chess| Photo: Dovile Sermokas
How did you get the idea to combine chess and jazz?
During my jazz studies at the Conservatory in Amsterdam, I regularly met other music students in the chess pub "Café de Laurierboom" to play chess. Over time, I developed the idea of combining chess evenings with live jazz. Just the idea of chess and jazz in the same room was great. When I moved to Berlin in summer 2018 I knew: "Now is the time!" Chess and jazz probably don't have much to do with each other at first glance, but they work wonderfully together, because both require similar skills, such as a high degree of creativity, concentration, decision-making, adaptability and passion.
Levon Aronian, an avowed jazz fan, once compared Magnus Carlsen to the famous jazz drummer Tony Williams, and Michael Adams to Thelonious Monk, and was able to demonstrate the similarities between the playing styles of the grandmasters and the jazz musicians.
How does a "Chess & Jazz Berlin" evening look like?
At Chess & Jazz Berlin, guests can play chess from 7 p.m. on, and experience top-class jazz music from 8 p.m. to 10 p.m. You don't have to sit quietly in your seat and concentrate on listening to the music, but you can chat with each other in peace. It should be a sociable evening and not a stiff jazz concert. There's nothing wrong with a focused concert atmosphere, but Chess & Jazz Berlin is all about the togetherness and the exchange between chess players and a jazz audience. The audience also regularly plays other games – we don't limit ourselves  – whether chess or card games, everything is welcome. The evening usually ends around midnight.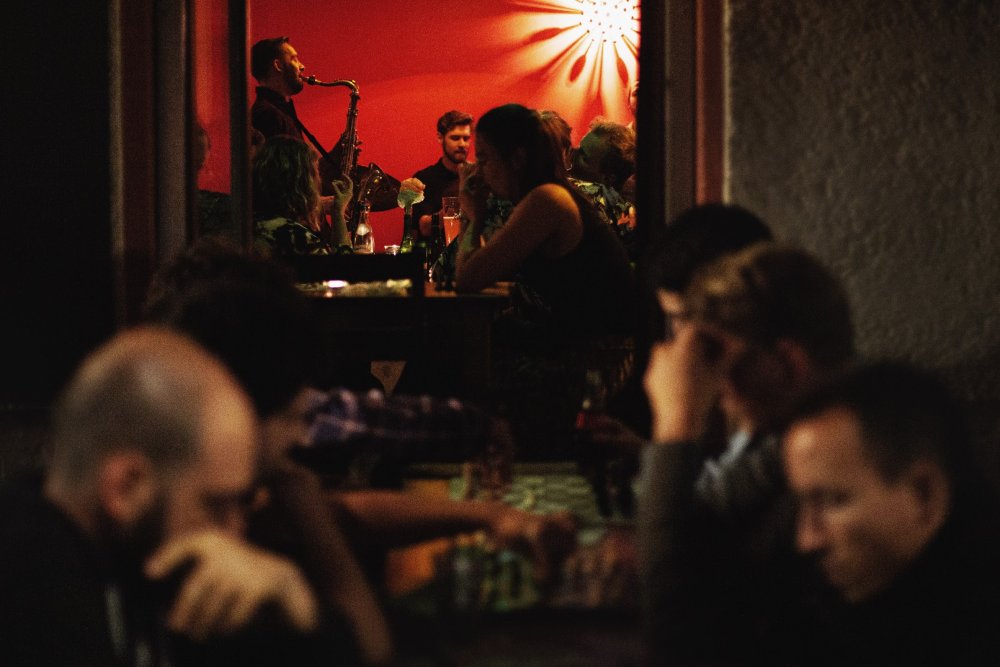 Chess and music | Photo: Dovile Sermokas
Do I have to bring my own chess set?
No, chess boards and pieces are available on site.
Who are the musicians at the events?
For the music we invite young, first-class musicians from the Berlin jazz scene. I lead the bands myself in the evenings and play drums. In addition to up-and-coming talents, we occasionally also have top-class jazz musicians on stage: in the coming months, for example, John Schröder and Wanja Slavin will be paying us their respects – both of them absolute stars of the German and the international jazz scene.
Such musicians certainly don't play without an appropriate fee. How is Chess & Jazz Berlin financed?
At the beginning we were still dependent on donations from guests and the pub – which
was all right at the beginning, but not satisfactory in the long run. In 2020, we were fortunately granted funding by the "Förderprogramm der
Senatsverwaltung für Kultur und Europa Berlin", the "Funding Program of the Senate Department for Culture and Europe Berlin", which covers the majority of costs and enables us to pay reasonable fees. We are very grateful for this support.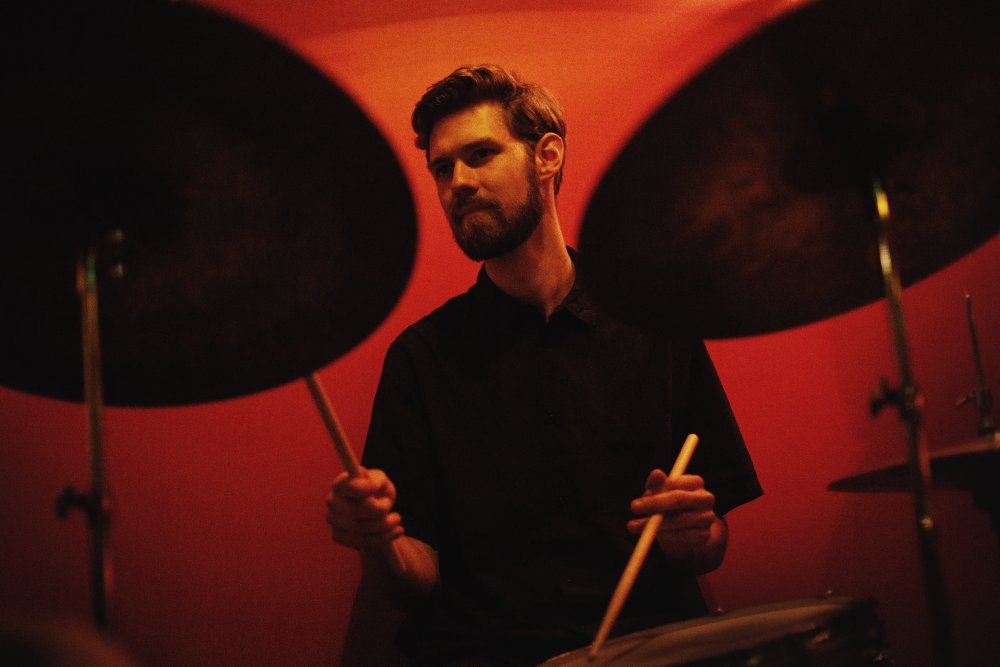 Clemens Lotz on drums | Photo: Dovile Sermokas
The Corona pandemic has hit the events industry hard. How did you, as the organiser, react to this, and can Chess & Jazz Berlin take place again?
Of course, Corona also affected Chess & Jazz Berlin. From March to June the events had to be cancelled. But since July they are taking place again though this can only work with strict hygiene rules. At the first two events after the lockdown, we implemented the necessary measures and now it is important to monitor the developments of the pandemic from month to month, and to cancel events if the health risk is too great.
What are your goals for Chess & Jazz Berlin for the coming year?
Without the lockdown there would have been two special events this year, which we now would like to organise next year. On these Chess & Jazz Berlin Days there will be simultaneous chess, chess training, jazz workshops, lectures, and of course lots of live music and chess.
We hope to present Chess & Jazz Berlin to a wider audience, and to support an even more intensive experience of chess in combination with live music. In addition to these special events, another aim is to connect more with the Berlin chess clubs. At the moment we have mainly hobby players as guests, but we also see the potential of Chess & Jazz Berlin to become a meeting place for players with high elo ratings. Where else can you pursue your passion so casually over a glass of beer or sparkling water? This should be fun for any Grandmaster!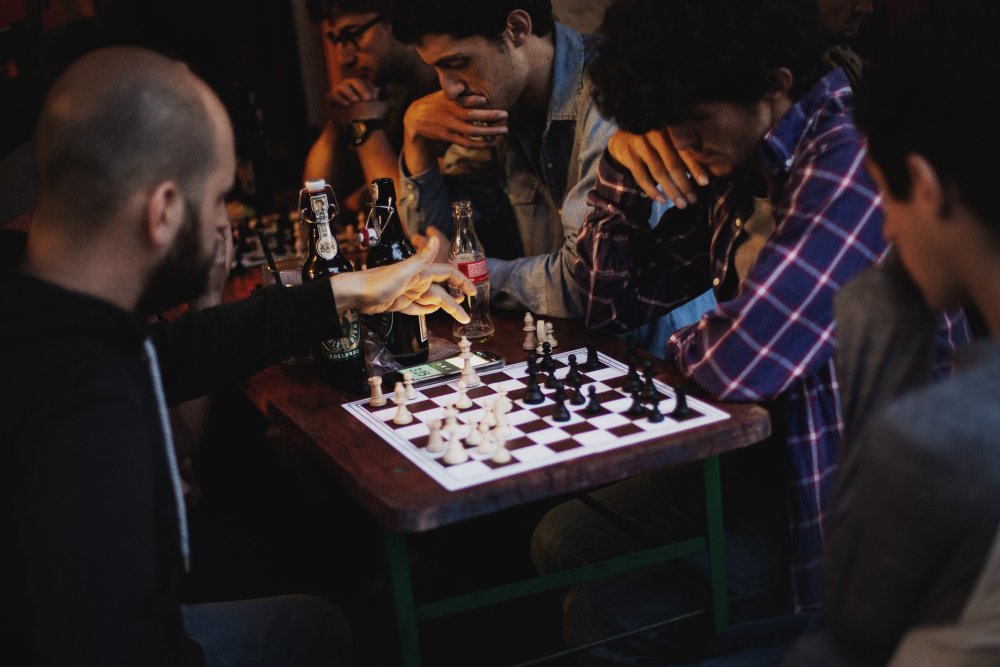 Photo: Dovile Sermokas
Where and when will the next Chess & Jazz Berlin event take place?
The next Chess & Jazz Berlin event – no.14 – will take place on 17th of September from 7:00 p.m. onwards in the restaurant and bar "Transit", in the Schlesische Straße 35, Berlin-Kreuzberg. The band will consist of John Schröder on guitar, Christian Müller on double bass and myself, Clemens Lotz, on drums. I can only invite every chess fan to have a look at this event, and to spend a special evening with us!
Thank you very much for the interview!
Questions: André Schulz
Translation from German: Arne Kaehler
Links: